Headlining this season for me is the Highschool of the Dead anime adaptation. I've been following the manga version for awhile now – and waiting patiently for the author to get off his hiatus and continue the series – so it was great to hear that HotD was being made into an anime. Good action, beautiful babes, and zombies – what more could you really ask for? The promo video promises some pretty damn nice CG animation from Madhouse. Hopefully they'll stick nice and close to the manga storyline.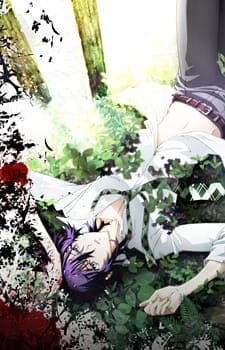 Actually, it's looking like Summer 2010 is going to be pretty thick on the horror/occult side of things, with series like Seikimatsu Occult Gakuin: Occult Academy and Shi Ki joining HotD on my list. Occult Academy is one of the entries in the Anime no Chikara project, focusing on a private school dedicated to studying the occult, and in particular the daughter of the former headmaster of the school, Maya. The animation is being done by A-1 Pictures, who usually do pretty damn good work. Shi Ki takes the other standard horror/occult route, bringing us to a small village plagued by a series of unusual deaths, and the efforts of the hospital dean to solve what's been going on. With any luck, Shi Ki won't turn into another Ookami Kakushi. I'm not familiar with Daume, the animation studio for this one, so we'll see what we get.
We've also got a couple fantasy styled entries coming up for Summer 2010 in the form of Nurarihyon no Mago, Shukufuku no Campanella and The Legend of the Legendary Heroes. The former is another manga-to-anime adaptation, about a young man who's one quarter demon, and heir of the demonic Nura clan. Minor detail, he's not particularly fond of being part demon, blah blah blah… I have a nasty feeling this one's going to end up being an Inu Yasha clone, so I've never taken a look at the manga, but I figure I can give the anime an episode or two to see what it's like. It's being done by Studio DEEN. Legend of the Legendary Heroes sounds a bit more promising, falling more into the vein of Record of Lodoss Wars and the like, though from the preview with a bit more of a comedic take than most. ZEXECS is animating this one, and they've got a pretty good track record with fantasy settings. Campanella is based off an eroge by Windmill of the same name, and has been running as a manga series too. It follows young Leicester Maycraft, a item technician from the city of Ert'Aria, as a shooting star lands near a party he's attending. AIC is doing the animation, and typically eroge conversions do pretty well for me, so again, it's worth a look in my book.
For your high school harem fix, Ookamisan to Shichinin no Nakamatachi, Asobi ni Iku Yo and Seitokai Yakuindomo. Ookamisan is about a wolfish girl named Ryouko Oukami and a group of her friends. J.C. Staff is doing this one, and it sounds like a somewhat saner Suzumiya Haruhi. I figure it's worth a couple episodes, anyway. Asobi follows the recent chain of catgirl-related series; I really don't know much at all about this one, but it's being done by AIC Plus+, and that alone is enough to get me to check it out. Ok, that and the word catgirl. Sue me. Seitokai details the trials of Takatoshi, new student council vice-president at a school that's just recently been gender-integrated. Of all the series on my list, I have to admit that I'm expecting the least out of this one; for all appearances it's a standard moe harem formula. GoHands is the studio behind Seitokai.
Rounding out this season is the second season of Sekirei, Sekirei: Pure Engagement. Sekirei is kinda like a train wreck. I don't really WANT to watch it… but I can't take my eyes off of it. The first season bounced, jiggled and stumbled its way along to an ok ending, and even though I know it's just going to get worse… Seven Arcs is handling the animation again, so I'm sure there'll be plenty of jiggling to go around.
Beside my personal list, there are a couple more highlights for the Summer 2010 season. First up on the list is the second season of Sengoku Basara. I watched about half the first season and then dropped it, but the series itself was pretty damned popular. There's also Kuroshitsuji 2 coming up, though I can't speak to that series at all. A new season of the toy advertisement series Digimon, Xros Wars is scheduled too. Last, but certainly not least for the sequels is Strike Witches 2. AIC's taken over the second season of that from Gonzo. For new stuff, Mitsudomoe is a slice-of-life classroom story I believe based on a popular manga series. Amagami SS is based off a PS2 visual novel of the same name, another high school harem series that I decided to skip for now. Finally, we have Tono to Issho, which will probably have at least one episode with titanic ratings thanks to the cameo appearance of JPop star Gackt as Uesugi Kenshin.
So, there's the Summer 2010 season in a nutshell; looks to be a lot to be interested in this time around.